The turnkey project provides for the supply of all necessary consumables for growing and additional equipment for the repair and operation of the greenhouse.
These include:
- Planting material (seeds, seedlings),
- Substrate, mineral wool,
- Spare parts for used equipment,
- Tools for the repair of equipment and care for plants (carts, pruners, knives, clips, gloves, bio-traps, a sleeve for the distribution of CO2, hooks for hanging plant stems, etc.)
- A means for whitening,
- Any goods from our CATALOG.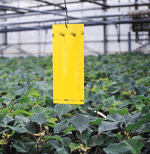 Popular in catalogue: